Pimp first.

I'm totally stealing Haru's cap, and I feel absolutely no remorse.

Aki-san like, translated this EVEN BEFORE the raws were posted on LJ, even before any of us at the Team downloaded the raw.....and Haru wrestled with FIVE versions of the raws to find which would be the best one.

Oh, and an HQ version is coming out in a couple of days. Ain't life grand???????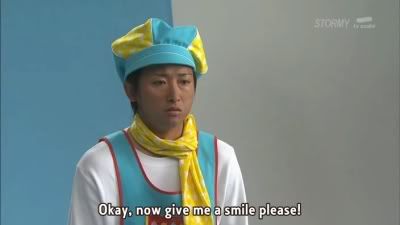 DOWNLOAD HERE. Join first if you haven't already....and MF links at Aibakaland. (Goodness, even our uploader saragnayan is FAST!!)

*breathes*

So my throat kinda itches that every now and again I'd try to cough, or clear my throat, and this older guy colleague of mine - way across the room - imitates me. Every single time. I'm torn between irritation and amusement. I wanna pull at his hair 'cept for the fact that there isn't much of it left, and that's a battle I know I'm gonna lose. And painfully, too.

Last night was a lull. I got home and felt lazy. SHOCK. I settled down beside my nephew who had a marathon of Stomp the Yard, Jump In and Dirty Dancing. AND THEN Ponyo on a Cliff. It's a school night, but I'm a supportive one, so. And as for Dirty Dancing, he was already nodding off by the time the groin- and loin-fest begun. And...he was completely gone when Ponyo. See how supportive I am?

I heard Nobuta wo Produce will be aired in my country. Dubbed in Tagalog, of course.

Heaven help us.
( This is indeed, the Year of the Cow. )
* * * * *
I'm a hardsubs addict, so I patiently await the hardsubs for
Mei-chan
and
Voice
before watching them. Perhaps,
Love Shuffle
, too? Then again, of course Moriah had to get on my case and insisted I watch
Akai Ito
with softsubs. She caught me at one of my weakest.
( Uta no Oniisan 1 - I try not to put spoilers )
* * * * *
( Akai Ito 4 )
*breathes again*
Damn. I was meaning to write about
East of Eden
, complete with caps, then I realized I was writing up an entire SUMMARY OF IT! WITH CAPS!!! And...and....I'm finished writing it up til Episode 5 and I thought to myself, 'this is stupid, why on earth am I doing this?'
I'm not sure that post is ever gonna see the light of day.
TO
MUCHINGCHING
.
GURL, YOU ARE CRAZY!!!
I got it. It's sooooooo pretty!!! (My mom wants it. I am sooo not a good daughter.)
And I only gave you a lameass card.
And the reason I didn't friend you was I recall you saying you don't update your LJ much....*sniff* So...yeah....Sorry.....Will rectify that now.
THANK YOUUUUUU~!